I am the kind of baker who goes with real butter, full fat milk and heavy cream because I truly believe that full fat dairy makes the best desserts. Being said that, I never go crazy with sugar. I love my desserts with the right amount of sweetness. And I do always try to adjust the amount of sugar in my baked goods. Except it doesn't work all the time. For example, buttercream frosting can be notoriously sweet thanks to the crazy amount of powdered sugar. Cutting down the sugar will only compromise the buttercream flavour and all you can taste is butter in your frosting!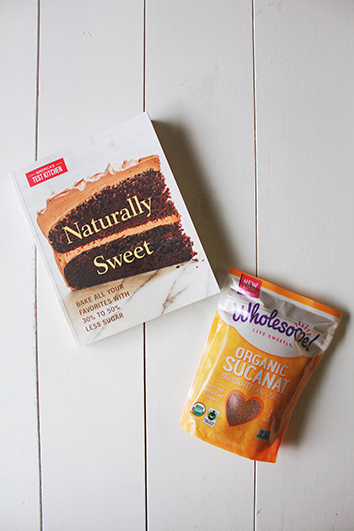 So when America's Test Kitchen contacted me about their cookbook Naturally Sweet: Bake All Your Favorites with 30% to 50% Less Sugar, I was really excited! Simply taking the sugar out of the recipes can have disastrous results – often desserts baked with an insufficient amount of sugar will come out dry and grainy. Add to that the challenges inherent in using natural sweeteners (like coconut sugar, honey, and maple syrup), and it becomes clear that baking this way requires creative techniques and thoughtful solutions. America's Test Kitchen has developed more than 100 revolutionary recipes for great-tasting baked goods and desserts that rely only on natural, less processed sweeteners instead of white sugar. Plus, every recipe contains 30 to 50 percent less sugar overall.
I was planning to make a peach blueberry pie the traditional way until I received this lovely cookbook, and I decided to adapt their peach pie recipe instead. First the all-butter pie crust was a sure-win one. The addition of sour cream, which was new to me, helped slow down the development of gluten and ensured a tender and flaky crust. I used Sucanat in place of white sugar for the pie filling. Sucanat is a whole unrefined cane sugar. A a small amount goes a long way in developing flavor in recipes. The pie came out wonderfully. I would never have guessed it has less sugar. I happen to really enjoy Sucanat's deep molasses flavor, and I will be very interested to see how other baked goods turn out.
Naturally Sweet covers a wide range of breads, cakes, cookies and other desserts. Each recipe goes with pictures and detailed instructions that even novice bakers will be able to follow. If you're looking for a book with recipes for sweet treats using far less sugar, I'm sure this is the book you want. And I'm excited to give away a copy to one lucky reader, thanks to America's Test Kitchen. Simply leave me a comment below telling me one dessert that you would love to make/bake with less sugar before September 30, 2016 (Friday) midnight PST. One lucky winner will be selected at random and announced on this post.
*** Congratulations to Natalie Willison, the winner of Naturally Sweet: Bake All Your Favorites with 30% to 50% Less Sugar by America's Test Kitchen. Thank you all for participating! ***
Ingredients (one 9-inch double-crust pie):
All-Butter Double-Crust Pie Dough
1/3 cup ice water
3 tablespoons sour cream
2 1/2 cups all purpose flour
1 teaspoon salt
14 tablespoons unsalted butter, cut into little cubes, chilled
Peach Blueberry Filling
4 peaches, peeled and sliced
1 cup blueberries
1/4 cup Sucanat
1 teaspoon grated lemon zest
a pinch of salt
1/2 teaspoon ground cinnamon
1/4 teaspoon ground nutmeg
1/4 teaspoon ground cardamom
3 tablespoon all purpose flour
1 tablespoon cornstarch
Egg Wash
1 egg yolk
1 tablespoon heavy cream
Directions:
To prepare crust, whisk ice water and sour cream together in a bowl.
Process flour and salt in food processor until combined. Scatter chilled butter over top and pulse until butter is size of small lentils.
Drizzle half of the sour cream mixture over top and pulse until incorporated, about 3 pulses; repeat with remaining sour cream mixture.
Pinch dough with your fingers; if dough feels dry and does not hold together, add 1 or 2 tablespoons more ice water and pulse until dough forms large clumps and no dry flour remains, 3 to 5 pulses.
Divide dough into 2 even pieces. Form each dough into 4-inch disk, wrap tightly in plastic wrap, and refrigerate for 1 hour.
Before rolling dough out, let it sit on counter to soften slightly, about 10 minutes.
Roll 1 piece dough into 12-inch circle on lightly floured counter. Loosely roll dough around rolling pin and gently unroll it onto 9-inch pie plate, letting excess dough hang over edge. Ease dough into plate by gently lifting edge of dough with your hand while pressing into plate bottom with your other hand. Wrap loosely in plastic wrap and refrigerate until dough is firm, about 30 minutes.
Roll second piece of dough into 12-inch circle on lightly floured counter, transfer to parchment paper-lined baking sheet and cover with plastic, refrigerate for 30 minutes.
To prepare pie filling, toss peaches and blueberries in a medium bowl. Mix the remaining filling ingredients and pour it over the fruit, gently toss together with a wooden spoon. Let sit at room temperature for 30 minutes.
Preheat oven to 425F. Pour the pie filling into the prepared bottom pie shell. Drape the top crust over the filling. Crimp dough evenly around edge of plate using your fingers.
Mix the egg wash ingredients, and brush the dough with the mixture.
Set pie on a large cookie sheet. Bake about 25 minutes, until the crust is light golden brown. Reduce oven temperature to 375F, and continue baking for another 25 minutes, until filling is bubbling and the crust is deep golden brown.
Remove pie from oven, and let it sit in room temperature for 30 minutes. Serve with vanilla ice cream.